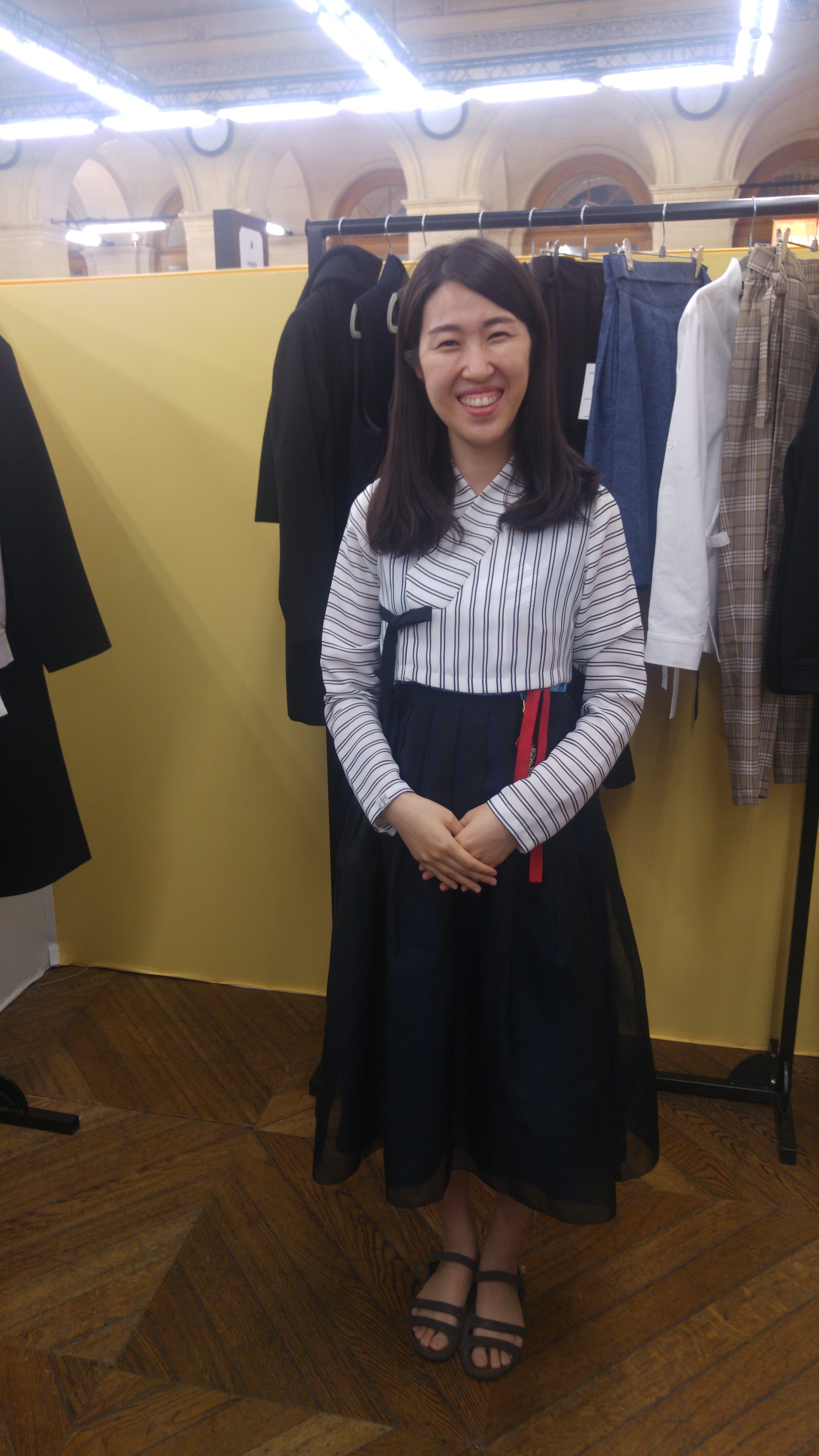 Leesle Hwang , modernizing tradition in style
1 October 2017
Paris, June 2017.
The Parisian summer has just started , and the Palais Bourse, an elegant monument in the center of the capital city hosts one of its most major Fashion event , the Tranoï Festival. Designers from all around the world gather to present their next collection and strike lucrative business deals. Whenever you turn, you are presented with an array of jewelry, accessories and fashion -forward pieces of garments. Designer Leesle Hwang has also made the trip from Korea, to present to western fashionistas an attractive variation of a very traditional piece of clothes: the hanbok.
Worn for ceremonies such as weddings, traditional celebrations or formal political events, hanbok is considered as the epitome of the Korean heritage : it consists of a jeogori, a blouse shirt and a chima, a wrap-around skirt.It can be accessorized with a norigae, a colorful pendant which elegantly adorns the outfit.
No trace of such stiff ceremonial in Leesle's booth.She designs modernized versions of the traditional item using fabrics such as cotton, rayon , wool or bamboo. Her young eye and fresh perspective allow her to create chic and playful clothes , made for everyday wear.In the heart of the avant-garde Tranoï festival, she opens up about her unique path, her inspirations and hopes for the future of her brand.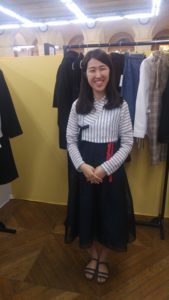 Designer Leesle Hwang
Let's start with a little introduction!
Hello, I'm Leesle, a 31 year-old hanbok designer and I opened my first shop in my hometown in 2007.But it was in 2014 that I started my brand "Leesle" by making modernized hanboks .I'm from Jeonju, a traditional city in Jeolla Province.
Jeonju is very famous for its traditional arts : gastronomy, music, crafts and of course hanboks. My city inspires me daily.
Q: You had to face your parents opposition when you decided to become a hanbok designer, can you tell us why?
A: Hanboks are usually worn for special occasions , such as weddings for example, so you cannot wear them very often. Demand for such outfits was gradually decreasing . So, at first, my parents were very worried about the financial hardships I could face.
But in the meantime, the younger generation began to getting more and more interested in hanbok and its modernized versions.Around 2014, the phenomenon started to gain traction through the media, and now demand has grown exponentially.
Q:What's your inspiration?
I didn't major in fashion.My main source of inspiration comes from manga, in particular GOONG*.The design of the hanboks worn by the heroine were so colorful and innovative, I thought that I could too create such outfits and make something new. It really nurtured my desire to design. I really think that the hanbok can evolve with time, that's the basis of my work.
Q: You make a point of wearing hanboks everyday. Can you tell us about your experience in doing so?
When I began wearing it everyday it was still unusual so I did get some attention and stares, and it made me a little afraid. But after 6 months, I was getting used to it and feeling more comfortable, and people started to actually compliment me . I realized that the hanbok could be trendy, and it made me happy.
Q:Milan and Paris are your first stay in Europe. When did you decide it was time to expand your brand?
A: I've been dreaming to make my brand known globally since the beginning, but it's in 2016 2014, when I started my ready-to-wear line, that I seriously considered it. I was very confident about the potential of hanboks getting international recognition.
In Milan , our men collection attracted lots of attention, more than the women's.Shirts and pants proved themselves very popular. They were deemed innovative and creative by fashion editors, so reception was good. I was very nervous about Milan because I felt it was a fashion fair organized on a smaller scale than Paris, it was a "make or break" situation: either it was a hit or a big failure. But seeing the positive response our collection had, I feel much more confident, and I'm sure next the next time we'll come, it will be an unmitigated success!
Q: So how do you feel about imagining Parisian or Italian women wearing your hanboks?
I think fashion is always trying something new, so I've been picturing non-Asian people wearing hanboks since the beginning. It can be avant-garde and stylish. I'm sure people wearing it in the street will get attention and thus set a trend.Kimonos and other Asian outfits are really trendy right now, so I think Korea still has a part to play on the fashion scene , and I think hanbok can make it.
Q: To conclude, what advice could you give to European women who would be interested in wearing hanboks, but don't dare to take the plunge yet?
A:Mix and match! Wear a hanbok garnment with jeans for example,get used to it, and then, you can be bolder with your outfit, and be more creative with your style and the way you choose to wear it. Don't be afraid to try something new, challenge yourself and you'll fell in love with the hanbok!
Q: thank you!
* Goong (Palace)/ A very popular manwha set in an alternate, 21st-century Korea which has retained its monarchy and imperial family since 1945.
Leesle Hwang managed to create a revitalized version of a very traditional garnment that will make you really want to try on, make it yours and never look back! She also designs a selection of accessories that would bring a touch of Korea to your Western outfit. You can find her collection on her site, and she sells globally!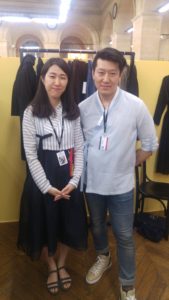 Miss Hwang and Sales Manager Haseok Lee
I want to sincerely thank Leesle for her time and her kindness, and Haseok Lee for his precious translation, help and avaibility.

You May Also Like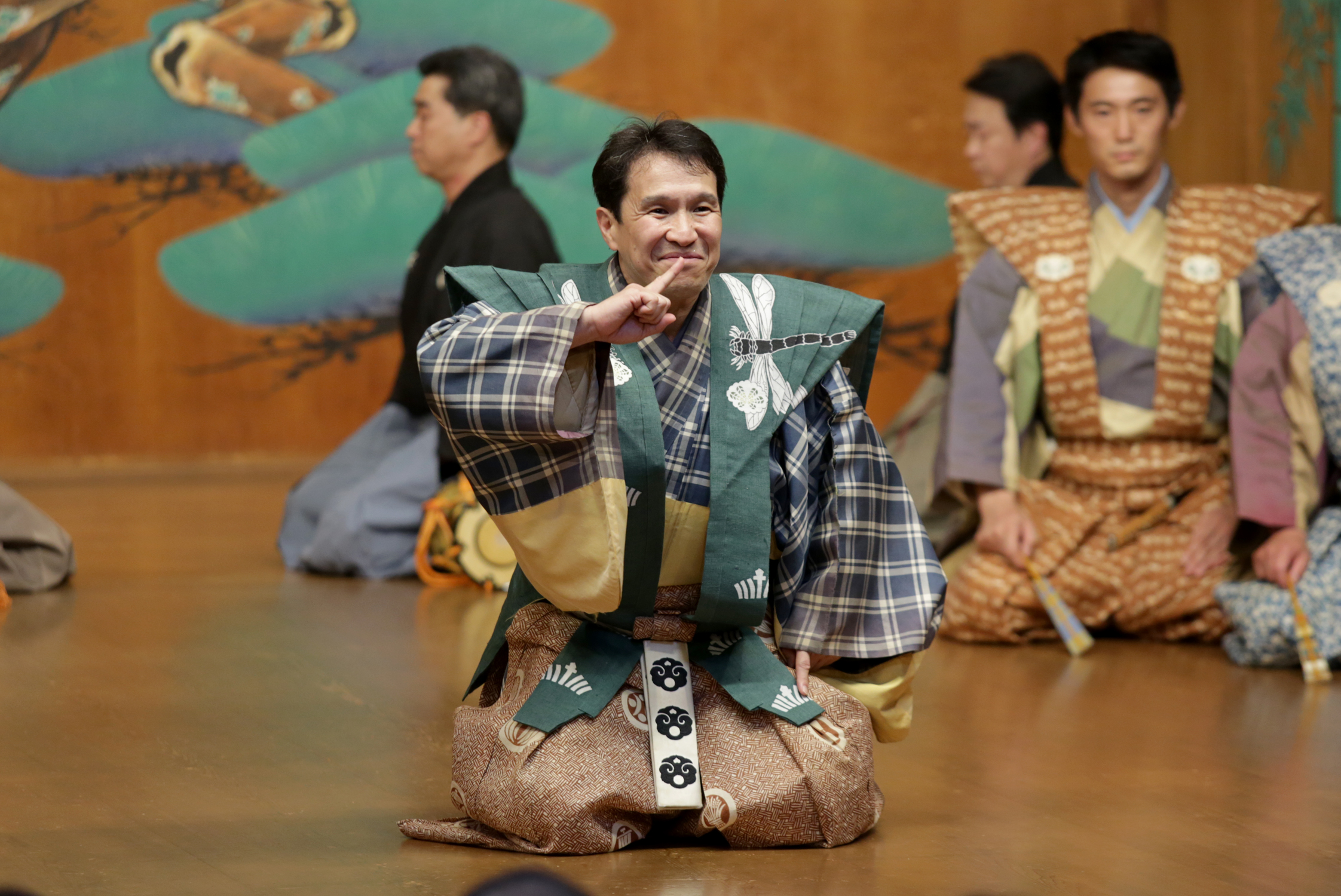 8 May 2018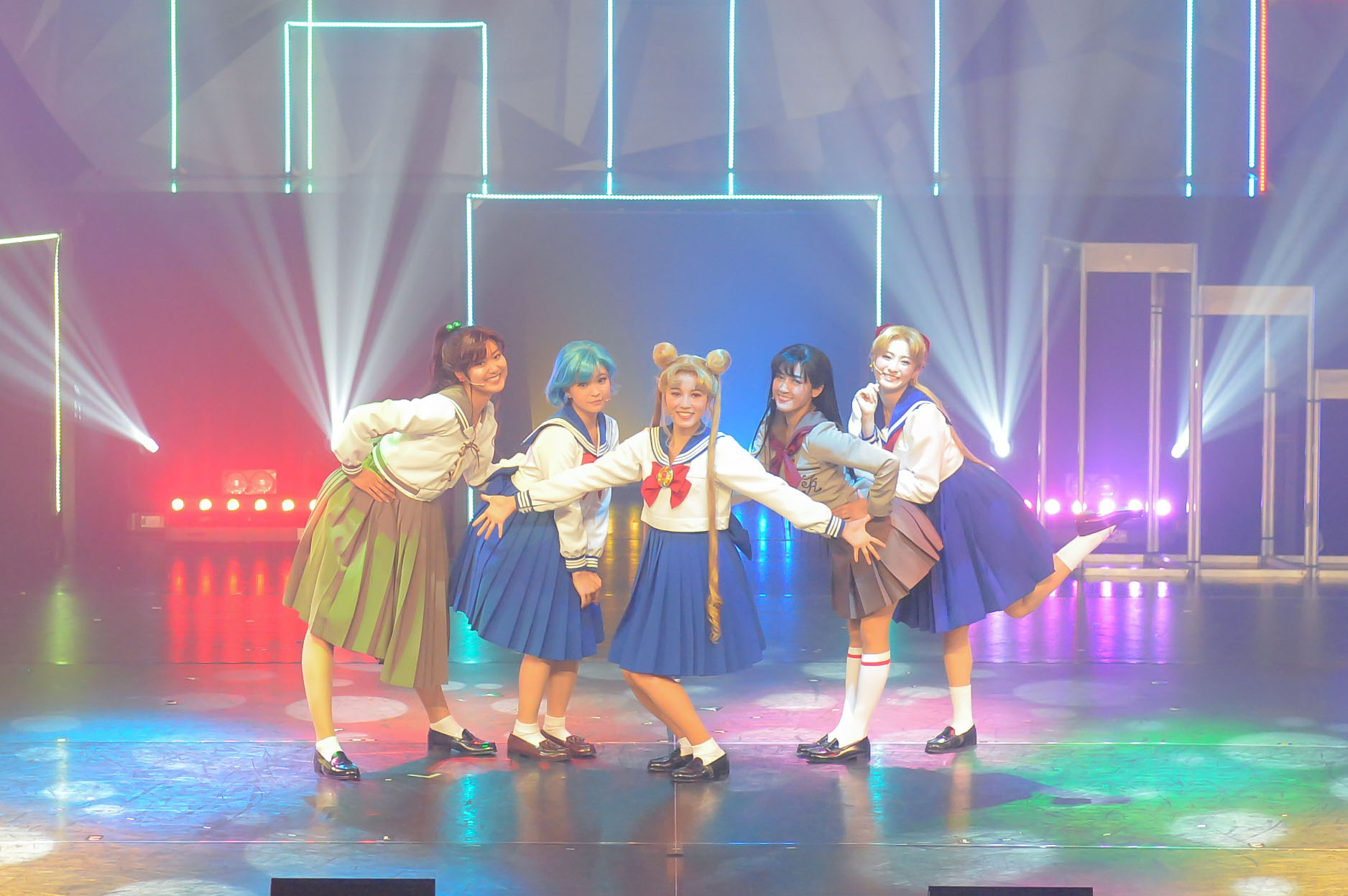 12 November 2018